World
Fiona knocks out power in Atlantic Canada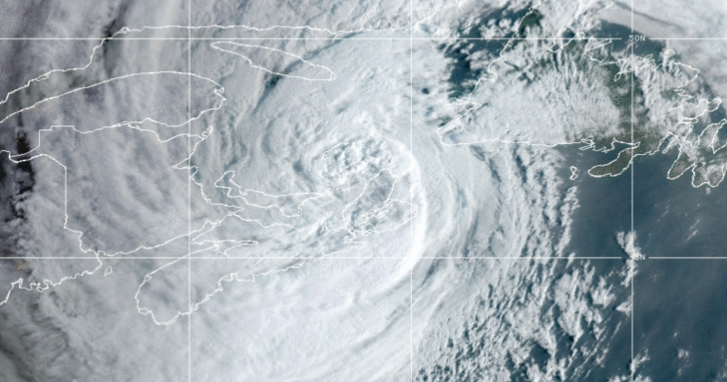 Fiona It knocked out power to more than 500,000 customers in Atlantic Canada on Saturday, with strong winds and rain damaging homes as it made landfall as a large, powerful post-tropical cyclone.
Fiona was downgraded to a tropical storm late Friday, but forecasters warned it could still pack hurricane-force winds and bring drenching rain and huge waves.
"Just an incredibly strong storm as it made landfall. And as it moves away, the impact continues for a few more hours today," Ian Hubbard, a meteorologist at the Canadian Hurricane Center in Dartmouth, Nova Scotia, said Saturday morning. .
"The talk of a historic storm certainly seems to be coming true."
The Canadian Hurricane Center tweeted early Saturday morning that Fiona had the lowest pressure ever recorded for a storm to make landfall in Canada. Forecasters had warned that it could be one of the most powerful storms in the country.
The mayor and council of the Cape Breton Regional Municipality have declared a state of local emergency due to widespread power outages, road closures and damage to homes.
"There are houses that have been heavily damaged by fallen trees, big old trees. We're also seeing houses that have roofs completely ripped off, windows broken. There's a lot of debris. Roadways," the mayor of the Cape Breton Regional Municipality Amanda McDougal told The Associated Press.
"There's been a lot of damage to property and structures but no injuries to people at this point. Again we're still in the middle of this," she said. "It's still terrifying. I'm sitting here in my living room and it feels like the patio doors are going to come crashing in with that big wind. It's loud and shocking."
MacDougall said the shelters they opened were full overnight and they will try to open more.
The Federal Public Safety Ministry has advised against all unnecessary travel by car.
The fast-moving Fiona made landfall in Nova Scotia before dawn on Saturday, downgraded to Category 4 strength early Friday as it passed Bermuda, though officials there reported no serious damage.
A hurricane watch was issued for coastal stretches of Nova Scotia, Prince Edward Island and Newfoundland.
Fiona had sustained winds of 85 mph on Saturday, the U.S. Hurricane Center said. They were moving across eastern Canada. Hurricane-force winds extended outward up to 175 miles (280 kilometers) from the center, and tropical storm-force winds 405 miles (650 kilometers) outward.
"Although forecast to gradually weaken over the next few days, Fiona is expected to maintain hurricane-force winds.
until this afternoon," US forecasters said.
Prime Minister Justin Trudeau has decided to postpone his trip to Japan to attend the funeral of former Prime Minister Shinzo Abe.
"We hope there won't be a lot of need, but we think there probably will be," Trudeau said. "Listen to the instructions of local authorities and stay there for the next 24 hours."
Hurricanes are somewhat rare in Canada, as storms lose their main source of energy once they reach colder waters. But subtropical cyclones can still have hurricane-force winds, even though they have a cold core and no eye. They often lose their symmetrical appearance and look more like commas.