Science
Sen. Tammy Duckworth asks FAA to change how it tests airplane seat sizes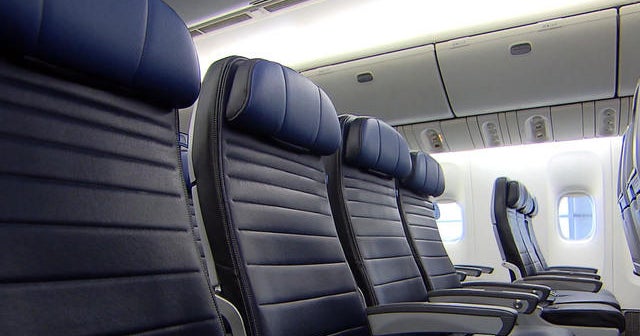 Democratic Sen. Tammy Duckworth introduced a bill Thursday that would require the Federal Aviation Administration to reconsider how it tests airline seat sizes. The proposed legislation, called the Emergency Evacuation of Aircraft Cabin (EVAC) Act, would require the FAA to look at how children, seniors, people with disabilities and carry-on bags could affect aircraft evacuation times.
Airlines have been reducing the size of their seats for years, leading Congress to set new standards in 2018 to ensure passengers can vacate planes in 90 seconds or less. But the test has been widely criticized for not considering things like passengers with disabilities.
"When you're testing with non-real world conditions, it worries me," Duckworth told CBS News. "Airlines are now filling almost every seat. You can't practice emptying an aircraft only 30% full, because that's not what commercial aviation looks like today."
Duckworth, who lost both legs while serving in Iraq, doesn't believe she would be able to evacuate a plane "under normal circumstances" in the 90 seconds she usually travels.
In a statement to CBS News, the FAA said it is continuing to review thousands of public comments This was received earlier this year on airline seat sizes. Of the more than 26,000 submissions the agency received, the word "torture" appeared in more than 200 comments.
But the FAA says its testing followed guidelines that were outlined by Congress.
The FAA doesn't have any regulations for seat size. Seat width has decreased by as much as four inches over the last 30 years—as low as 16 inches wide. Seat pitch, which is the distance between rows, has decreased from about 35 inches to as low as 28 inches, allowing airlines to add more seats to aircraft.
The FAA found in tests in 2019 and 2020 that "seat size and spacing did not adversely affect emergency evacuation success." But while the volunteer passengers in the simulation had different seat sizes, they didn't have to deal with obstructions like smoke, darkness or baggage, and they were in groups of 60 — nowhere near a full plane load.
All participants in the simulation were also able-bodied adults under the age of 60. Then-FAA Administration Steve Dixon acknowledged that the results were "useful" but "not necessarily definitive."
Consumer advocates and some former airline employees, including Captain Chesley "Sully" Sullenberger, pilot of the 2009 "Miracle on the Hudson" emergency landing, have argued that an overcrowded aircraft affects evacuation times.
Sullenberger said, "On our flight, it took more than three minutes to get everyone partially out because the airplane was rapidly flooding from behind. But also because it was real life and we had a full plane." was."
The airlines said that safety is their top priority and that they will continue to work with the FAA.